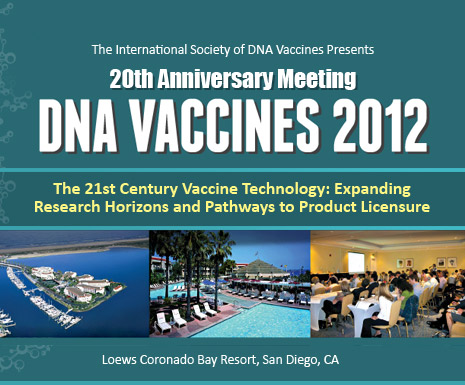 2012 Agenda
Tuesday, December 4
5:00 PM - 8:00 PM
Registration


Wednesday, December 5
7:30 AM
Registration Opens
7:30 AM - 8:45 AM
Continental Breakfast in Exhibit/Poster Area
8:45 AM - 9:00 AM
Welcome to DNA Vaccines 2012
David B. Weiner, PhD
Professor, University of Pennsylvania

The Future of Malaria Vaccines
Chairs: Ashley Birkett & Niranjan Sardesai
9:00 AM - 9:30 AM
Development of Vaccines to Support Malaria Elimination
Ashley Birkett, PhD
Director, Research and Development, PATH Malaria Vaccine Initiative (MVI)
9:30 AM - 10:00 AM
Robust CD8+ T-Cell-Dependent IFN-Gamma Responses Against Restricted Domains on P. Falciparum Antigens Induced by a DNA- Prime-Adenovector Boost Vaccine Regimen are Associated with Protection Against Sporozoite Challenge
Martha Sedegah, PhD
Senior Scientist & Director, Clinical Immunology Malaria Program, Navy Component, U. S. Military Malaria Vaccine Program
10:00 AM - 10:30 AM
From the Bench to the Clinic: Development of Viral Vector-Based Blood-Stage Malaria Vaccines
Sumi Biswas, DPhil
Group Leader/Post Doctoral Scientist, The Jenner Institute
10:30 AM - 11:00 AM
Coffee/Networking Breaking in Exhibit/Poster Area
Frontiers in Vaccine Research
Chairs: Matti Sällberg & Martha Sedegah
11:00 AM - 11:30 AM
Therapeutic Indications for DNA Vaccines
Tony Ford Hutchinson, PhD
President, Ford-Hutchinson Consulting Ltd
11:30 AM - 12:00 PM
What is the Role of Therapeutic Vaccination in the Era of Directly Acting Antivirals in the Therapy of Hepatitis C
Matti Sällberg, PhD
Board Member & Consultant, Tripep AB
Professor, Karolinska Institutet
12:00 PM - 12:30 PM
Tuberculosis Vaccines
David Hokey, PhD
Director of Immunology, Aeras
12:30 PM - 1:45 PM
Lunch in Exhibit/Poster Area
Cutting Edge RNA Technologies
Chairs: Peter Liljeström & Andrew Geall
1:45 PM - 2:10 PM
DNA/RNA Replicon Vaccines
Peter Liljeström, PhD
Professor of Infectious Disease Control, Karolinska Institutet
2:10 PM - 2:35 PM
Non-Viral Delivery of Self-Amplifying RNA Vaccines
Andrew Geall, PhD
RNA Vaccine Platform Technology Leader, Novartis Vaccines & Diagnostics
2:35 PM - 3:00 PM
Development of Therapeutic and Prophylactic Vaccines
Karl-Josef Kallen, MD, PhD
Chief Scientific & Chief Medical Officer, CureVac GmbH
3:00 PM - 3:30 PM
Coffee/Networking Breaking in Exhibit/Poster Area
Abstract Session
Chairs: Anne De Groot & Amir Khan
3:30 PM - 3:45 PM
A Multi-agent Encephalitic Alphavirus DNA Vaccine Delivered by Electroporation Elicits Protective Immunity against Aerosol Challenge with Eastern and Western Equine Encephalitis Viruses in Nonhuman Primates
Drew Hannaman - Vice President, Ichor Medical Systems, Inc.

3:45 PM - 4:00 PM
Inducing Potent Humoral and Cellular Responses to Multiple Sporozoite and Liver-Stage Malaria Antigens Using pDNA
Bernadette Ferraro, PhD, MPH
Postdoctoral Fellow, University of Pennsylvania
4:00 PM - 4:15 PM
Development of a Novel DNA Vaccine Strategy for Prevention of Clostridium Difficile Infection
Michele A. Kutzler, PhD
Assistant Professor, Drexel University College of Medicine
4:15 PM - 4:30 PM
NF-ĸB Activation Mediates Tumor-Specific CTL Responses Elicited by DNA Vaccines
Maarten Ligtenberg
PhD Candidate, Karolinska Institutet
4:30 PM - 5:30 PM
Plenary Roundtable I - Chairs: John Sterling & David Weiner Development and Commercialization of Novel Vaccines
Ashley Birkett
Tony Ford Hutchinson
Niranjan Sardesai
Jeffrey Ulmer
5:30 PM - 7:00 PM
Cocktail Reception in Exhibit/Poster Area
Thursday, December 6
7:30 AM
Registration Opens
7:30 AM - 9:00 AM
Continental Breakfast in Exhibit/Poster Area

Future Immunogens for Vaccination
Chairs: Jeffrey Ulmer & Allain Rolland
9:00 AM - 9:30 AM
Technologies for the Discovery and Development of New Vaccines
Jeffrey Ulmer, PhD
Global Head, External Research, Novartis Vaccines & Diagnostics
9:30 AM - 10:00 AM
Intra- and Inter-Cellular Signaling Pathways for DNA Vaccination
Ken Ishii, MD, PhD
Project Leader, Laboratory of Adjuvant Innovation, National Institute of Biomedical Innovation
10:00 AM - 10:30 AM
Allovectin® Systemic Immunotherapy for Metastatic Melanoma - Phase 3 Study and Pre-licensure Activities
Alain Rolland, PharmD, PhD
Executive Vice President, Vical Incorporated
10:30 AM - 11:00 AM
Coffee/Networking Break in Exhibit/Poster Area
Cancer Immune Therapy
Chairs: Richard Heller & Christian Ottensmeier
11:00 AM - 11:30 AM
Targeted Cancer Immune Therapy
Christian Ottensmeier, MD, PhD
Professor, University of Southampton
11:30 AM - 12:00 PM
Gene Electrotransfer for the Enhanced Delivery of Immunomodulating Agents
Richard Heller, PhD
Director and Professor, Old Dominion University
12:00 PM - 12:30 PM
Clinical Studies of Melanoma Therapy
Adil Daud, MD
Clinical Professor of Medicine and Dermatology, Director, Melanoma Program, University of California, San Francisco
12:30 PM - 1:40 PM
Lunch in Exhibit/Poster Area
Technologies and Approaches for Difficult Pathogens
Chairs: Drew Hannaman & Bin Wang
1:40 PM - 2:00 PM
The Co-Immunization Strategy Induces Tolerogenic Responses Against Autoimmune Diseases--Its Potential Applications and Mechanisms Behind
Bin Wang, PhD
Professor, Fudan University Shanghai Medical College
2:00 PM - 2:20 PM
Assessment of Clinical Feasibility For Electroporation Mediated DNA Vaccination in Infectious Disease Applications
Drew Hannaman
Vice President, Ichor Medical Systems, Inc
2:20 PM - 2:40 PM
Electroporation-Mediated Genetic Vaccination for Antigen Mapping: Application to Plasmodium Falciparum VAR2CSA Protein
Daniel Scherman, PhD
Exceptional Class Director of the Centre National de la Recherche Scientifique

2:40 PM - 3:05 PM
Modulating T Cell Immunity to Target Cancer: Establishing Effective Responses to Tumor Antigens That are Over-Expressed Self-Proteins
Philip Greenberg, MD
Professor of Medicine and Immunology, University of Washington
3:05 PM - 3:30 PM
Coffee/Networking Break in Exhibit/Poster Area
HIV
Chairs: Adel Mahmoud & Dennis Burton
3:30 PM - 4:00 PM
Dilemma of Immunogen Discovery!
Adel Mahmoud, MD, PhD
Lecturer with Rank of Professor in Molecular Biology and Public Policy, Woodrow Wilson School, Princeton
4:00 PM - 4:30 PM
A Blueprint for HIV Vaccine Discovery
Dennis Burton, PhD
Professor, Immunology & Microbial Science, The Scripps Research Institute
4:30 PM - 5:00 PM
Vaccination with HIV DNA and Plasmid IL-12 Delivered via Electroporation Elicits Robust Cellular Immune Responses
Spyros Kalams, MD
Associate Professor of Medicine, Vanderbilt University School of Medicine
5:00 PM - 5:40 PM
Plotkin Lecture - Immunoprophylaxis by Gene Transfer: Shortcut to an HIV Vaccine
Introduction of speaker by David B. Weiner, PhD
Philip Johnson, MD
Chief Scientific Officer and Executive Vice President, The Children's Hospital of Philadelphia
7:30PM-10:00PM
Gala - Awards and Roundtable Discussion- The Future of Nucleic Acid Vaccine Technologies - Chairs Margaret Liu & Niranjan Sardesai
Robert Bernard
Philip Greenberg
Joseph Kim
Hy Levitsky
Adel Mahmoud
Friday, December 7
7:30AM
Registration Opens
7:30AM-8:30AM
Continental Breakfast in Exhibit/Poster Area
Industry Session
Chairs: Michael Chambers & George Pavlakis
8:30 AM - 8:45 AM
Essential Elements of DNA Vaccine Production for Human Clinical Trials
Dorothy Peterson
Vice President of Operations, VGXI, Inc.
8:45 AM - 9:00 AM
Purification of Plasmid DNA on Monolithic Chromatographic Columns
Nika Lendero Krajnc, PhD
Chief Research & Development Officer, BIA Separations d.o.o.
9:00 AM - 9:15 AM
Heterologous DNA-Prime/Peptide-Boost Vaccination with Cross-Conserved H1N1 Influenza CD4+ T-cell Epitopes Reduces Viral Load in HLA Transgenic Mice
Leonard Moise, PhD
Scientific Director Vaccine Research, EpiVax, Inc.
9:15 AM - 9:30 AM
Expression Kinetic Profiles of Electroporation Enhanced DNA Vaccination Targeted to Different Dermal Compartments
Kate Broderick PhD
Director, Research and Development, Inovio Pharmaceuticals, Inc
Frontiers in Cancer Immune Therapy
Chairs: Hy Levitsky & Mark Bagarazzi
9:30 AM - 10:00 AM
Therapeutic Immunity-from Vaccination to Disease Eradication
Hy Levitsky, MD
Head of Cancer Immunology Experimental Medicine, Roche
10:00 AM - 10:30 AM
Immune Therapies for HPV Disease
Cornelia Trimble, MD
Associate Professor, Johns Hopkins School of Medicine
10:30 AM - 11:00 AM
Coffee/Networking Break in Exhibit/Poster Area
Cancer Frontiers
Chairs: Cornelia Trimble & Mark Selby
11:00 AM - 11:30 AM
Blocking Negative Regulators to Enhance Anti-Tumor Responses
Mark Selby, PhD
Director, Bristol Meyers Squibb
11:30 AM - 12:00 PM
Immunotherapy Directed Against HPV 16/18 Generates Potent Th1 and Cytotoxic Cellular Immune Responses
Mark Bagarazzi, MD
Chief Medical Officer, Inovio Pharmaceuticals, Inc.
12:00 PM - 12:20 PM
DNA-based Immunization Against Endosialin Compromises Tumor Perfusion and Growth without Affecting Normal Angiogenesis
Andrea Facciabene, MD, PhD
Research Assistant Professor,University of Pennsylvania
12:20 PM - 1:45 PM
Lunch in Exhibit/Poster Area
HIV Technology
Chairs: Shan Lu & Britta Wahren
1:45 PM - 2:05 PM
DNA Vaccination 20 Years Later - Elicitation of High Quality Antibody Responses
Shan Lu, PhD
Professor of Medicine, University of Massachusetts Medical School
2:05 PM - 2:25 PM
Feasibilities and Present Results on Childhood HIV Immunization
Britta Wahren, MD, PhD
Professor, Karolinska Institutet
2:25 PM - 2:45 PM
Therapeutic DNA Vaccination Induces Durable Functional Cure in SIV-Infected Rhesus Macaques
Deborah Fuller, PhD
Associate Professor, Department of Microbiology, Core Scientist, Washington National Primate Research Center, University of Washington
2:45 PM - 3:05 PM
Comparison of Systemic and Mucosal Responses after DNA and Protein Co-Immunization
Barbara Felber, PhD
Principal Investigator, Frederick National Laboratory for Cancer Research
3:05 PM - 3:30 PM
Coffee/Networking Break in Exhibit/Poster Area
Abstract Session
Chairs: Barbara Felber & Deborah Fuller
3:30 PM - 3:45 PM
Increasing Breadth and Altering the Immundominance Hierarchy of HIV-1 Gag by a DNA Vaccine Expressing Conserved Elements of p24gag in Immunized Macaques
George Pavlakis, MD, PhD
Principal Investigator, Human Retrovirus Section, Vaccine Branch, Center for Cancer Research
3:45 PM - 4:00 PM
In Vivo Monitoring of Immune Response in Preclinical Trials of Genetic Vaccines
Maria Isaguliants, PhD
Senior Researcher, Karolinska Institutet
4:00 PM - 4:15 PM
Examining the Safety, Tolerability and Immunogenicity of a DNA-based Influenza Vaccine in the Elderly; A Phase I Study
Trina Racine, PhD
Post-doctoral fellow, National Microbiology Laboratory, Public Health Agency of Canada
4:15 PM - 4:30 PM
Multivalent Particle-Mediated DNA Vaccine Against Seasonal and Pandemic Influenza Viruses Elicit Strong Antibody Responses in Non-Human Primates
Merika Treants
Graduate Student
4:30 PM - 4:45 PM
Characterization of Influenza Virus-Specific T lymphocyte Responses Induced by Gene Gun-Delivered Multivalent DNA Vaccine
Jolie Leonard, PhD
Postdoctoral Fellow, University of Washington
4:45 PM - 5:00 PM
Conference Summary and Closing Remarks
David B. Weiner, PhD